Create a login for every teacher at your school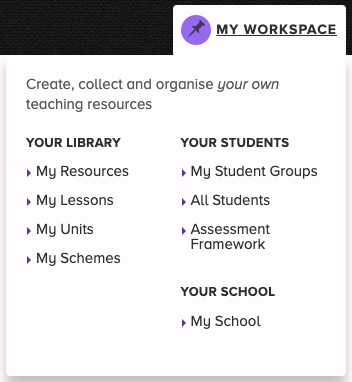 To get the best out of Charanga, each teacher needs their own individual login. Each login needs to be associated with a unique email address.
Each school has a nominated lead teacher; this will often be the music co-ordinator. The lead teacher is able to add and remove logins for other teachers in the school and to reset forgotten passwords.
Find out who the lead teacher is for your school by visiting the "My School" page in the "My Workspace" section of the website. The lead teacher is named at the top of the page.
Adding logins for teachers at your school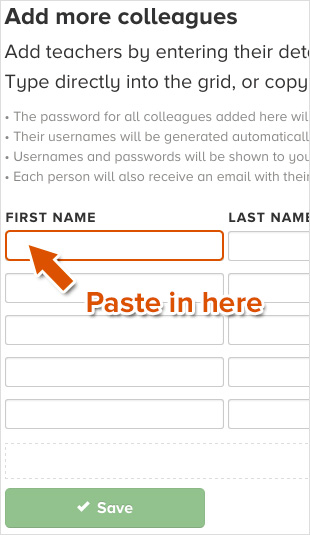 Click on the "My Workspace" tab.
Click on "My School".
Scroll down the page to where it says 'Add more colleagues'.
Enter your colleagues' details in one of the following ways:

Adding in bulk – copy the details from a text document or spreadsheet, then paste into the top left text box. (See image to the right).
One at a time – type the teacher's details directly into the text fields.

Click the green "Save" button once you have entered the name and email address of each teacher you wish to add.
You will see confirmation on screen that the teachers have been added, along with their usernames and passwords.
Login details will be sent to the email addresses of each teacher added. If the teachers that you added do not have logins after about ten minutes, then they should check their spam or junk mail folders.
If you made any errors whilst adding the logins, or if a teacher leaves, you can just delete them.
Password Resets
The lead teacher can reset forgotten passwords by going to "My Workspace" then "My School" and clicking "Reset password" against the relevant teacher. An automatic email will be sent to the teacher.