Home Learning
Yumu: Distance learning made simple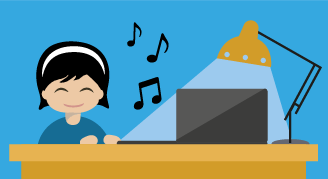 Teachers are increasingly turning to online learning approaches to educate their students and to supplement traditional classroom methods.
Those using the Charanga platform are adopting Yumu to support their students' music-making and learning at home. Yumu currently supports over 1.3 million students.
Accessibility and inclusivity
Yumu is a secure online space where students learn, play and develop their musicianship by:
completing assignments that you set using your own favourite resources or Charanga's.
engaging in independent learning, chosen from a range of exciting Yumu Packages.
Who can use Yumu?
Teachers with licences to use Charanga's Musical School or Music Professional programmes can use Yumu to support every child and young person they teach. Click on the links provided to explore Yumu and Musical School free.
Supporting home learning
Sharing resources with students and supporting their music-making between lessons via Yumu is easy. Teachers who are less familiar with the platform need only follow three steps to get started too (assuming that their school has registered for a Charanga trial or subscription):
Set up a Student Group for a class. For guidance, watch the video below.
First explore our Music At Home Packages – specially curated resources for students to use at home.
Click the +Yumu button at the top of the page and select 'Set as Assignment' if you wish to monitor students' progress or set due dates; otherwise select 'For independent learning'.
Support and guidance
To ensure you're getting the most out of Yumu, our wider platform and all other Yumu Packages available, please watch the video below.
Alternatively click on the Yumu icon at the top of the screen once you've logged in and follow the instructions provided. As always, additional support can be found in our help section.
Quick Start Video: Providing Access to Yumu
This video covers how a teacher provides access to Yumu and the various options available for sharing materials with students.
Video contents:
Click the links below to jump to specific points in the video.
Quick Start Video: How Students Access and use Yumu
Once students have been set up with a Yumu account, this video shows them, their parents or carers, how to log into the platform, access its resources and complete any assignments set by their teacher. Teachers and students can log in to find more information, guidance and support on Yumu in our Help section.
New to Charanga?
For complementary access to our platform, simply visit our free trial page, type in the name of your school and explore it for 30 days. There's no obligation to subscribe afterwards.
Need a helping hand?
Chat to a member of the team on +44 1273 823900 or by emailing info@charanga.com.
Free 30-day trial
Discover why Musical School is having such an enormous impact on the teaching and learning of music in over 12,000 primary schools
Start Free Trial
There's no obligation to subscribe afterwards and we don't take any payment details.