First Time Live II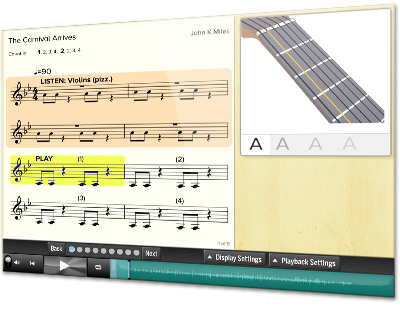 "First Time Live" was a project led by Orchestras Live aiming to break the mould of the traditional school concert by putting young people in control of the whole production.
Following remarkable results, a "First Time Live II" was conceived as a legacy project and composer John K Miles was commissioned to create a song and instrumental piece based on the Carnival Theme.
Staff from Luton Music Hub worked closely with the composer involving children from around 20 Luton Primary School and the piece was performed by 500 young musicians alongside the City of London Sinfonia at the UK centre for Carnival Arts in Luton.
Using recordings from this performance and working closely with the composer and key project partners, Charanga is in the process of producing a set of supporting interactive resources to help teach and learn this piece. This will not only help children from Luton to continue to learn to play and sing the piece, but crucially will provide a complete school package for ensembles of mixed ability, including complete beginners and intermediate/advanced players to perform together.
Over the coming months, Charanga will be releasing different resources supporting the singing and instrumental parts of the piece and will be inviting Music Education Hubs/Services around the country to join in on this exciting opportunity.