For British and American International Schools: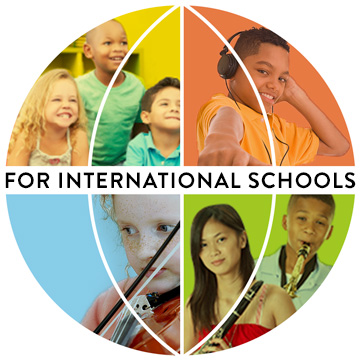 A vibrant, modern resource to enrich music teaching and learning in your International School
Charanga International is a living cloud-based resource that brings together great music, modern pedagogy and the latest educational technology.
It provides in-depth support for many aspects of music teaching and learning in and out of school and its exciting digital presentation and attractive content help to engage children and young people in a very contemporary way.
Pricing and Trials
For more information, email international@charanga.com
* pricing excludes VAT which will be included for EU countries only
Charanga International really stands out as an engaging, easy to use system. When teachers are shown Charanga International for the first time, it really gives their enthusiasm a boost – they just know that it's going to work well.

The instrumental resources are excellent and children in our band programme have really been able to improve by repeating the work that we do together in class.

Andy Casterton, Director of Music,
The British School, Rio De Janeiro
Look inside Charanga International:
Classroom Music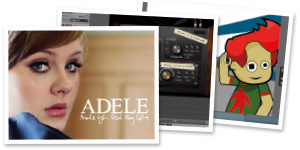 Charanga International's Classroom Music section provides premium resources to help make day to day music teaching a rich and rewarding experience for you as well as for the children and young people. The resources are grouped by children's age and for different approaches to teaching. There is a lot to explore!
Scheme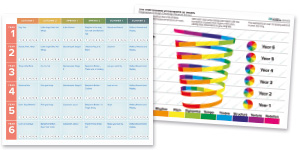 For children aged 5 – 11 the Scheme provides a progressive spiral of learning with planning support and all the interactive resources you would need right at your fingertips. Children sing, play, improvise, compose and perform and the week by week lessons are a great basis for a modern music curriculum.
Freestyle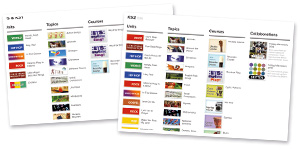 The flexible approach enables you to create your own music plan and encourages opportunities to make music across the curriculum. The interactive resources are clearly grouped by age and application.
Ages 5 - 7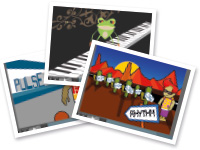 In addition to the wealth of well-known nursery rhymes, chants, songs and related activities, the learning within the Units equips the children with the initial foundation stones of musical understanding.
Ages 8 – 11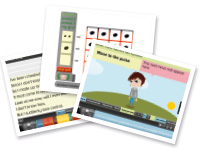 Building on the skills that have been acquired previously, the resources for this age range are more complex both vocally and instrumentally. The Units and range of materials deepen and develop understanding and encourage exploration and a growing familiarity with a wide range of styles and genres.
Age 12+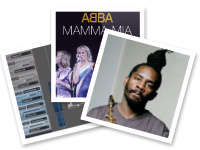 To develop and cultivate a creative and personalised approach to musical learning, the resources in this section provide a rich bank of activities and starting points. These include transitional Units and inspirational video interviews with modern composers explaining their creative processes.
Instrumental Music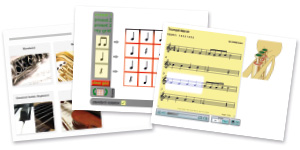 The Instrumental Music section of Charanga International is the ideal resource to support instrumental teaching for children in their first year or so of learning.
If you are thinking about teaching larger groups of beginners or are already doing it, the different types of resources here will be a great help. Children love the modern approach.
Pieces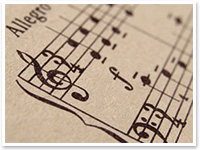 Simple interactive pieces for many instruments with highlighting notation and animated instruments, both synchronised with a backing track. These are ideal for beginners and for teaching large groups.
Music Medals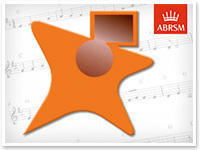 Beginner level assessments for small instrumental groups with solos, ensemble pieces and listening tests. Music Medals have been developed in partnership with ABRSM, the world leader in musical assessment based in the UK.
inspira®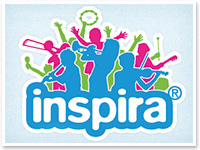 1-year beginner programmes for large-group instrumental teaching. Individual and mixed instrumental ensembles are supported. All 36 lessons in each inspira® programme come with interactive whiteboard resources and lesson plans. inspira® has been developed over several years and is used with great success in large-group instrumental teaching across the UK.
inspira® Pops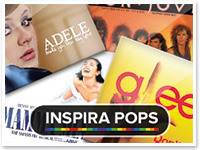 Flexible 6-week programmes for singing and playing. All the songs have differentiated beginner instrumental parts for a wide range of instruments. These Units work very well for large groups and provide attractive performance material.
Music World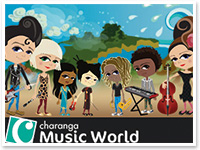 These interactive resources are taken from the magical online Music World section of Charanga International that children can use to support their music learning. Interactive pieces and printed resources provide attractive material to support children through the early stages of learning.
First Time Live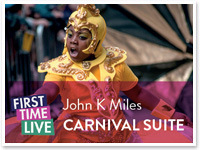 This song and instrumental performance piece is based on a Carnival Theme and provides an opportunity for beginner instrumentalists to play with a professional or youth chamber orchestra. The interactive resources make learning fun for the instrumental beginners and sitting down side-by-side with more advanced musicians to perform the work, is wonderfully inspiring.
Music World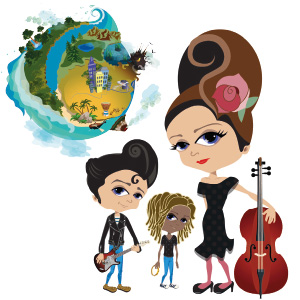 Music World is a safe online space within Charanga International where children and young people can go to learn, explore and develop playing and musicianship skills as they begin learning musical instruments with their teacher. It's a magical world of avatars and music activities where children earn coins and badges as a reward for completing musical tasks.
As a teacher you can make anything from Charanga International appear within a child's Music World so children can work on specific things you would like them to learn.
My Workspace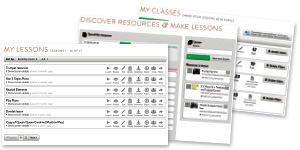 My Workspace is the place to create, store and share your lessons. It's a bit different to other areas of the programme. As you become familiar with how to use My Workspace you will find it saves you time on preparation and extends your students' learning beyond the classroom.
Testimonials
Charanga is used in over 6000 schools, in more than 20 countries worldwide, by over 36,000 teachers. Read what other music education professionals have to say about using Charanga International.
What International Teachers say:
We're really happy with Charanga. It's a valuable resource we use everyday at Al Muna, and it helps us to deliver the new music curriculum in an exciting and creative way.

The kids love the choice of songs - Year 4 just did an amazing performance of Mamma Mia to the whole school, and Year 5 can still be heard singing Don't Stop Believin around the school. There's more than enough material for extra-curricular activities like our Choir Club and Instrument Club.

I would happily recommend it to any International School that values excellence in music!!!

Stuart Picton, Music Teacher,
Al Muna Primary School, Abu Dhabi
We have been using Charanga International for nearly two years. We love it! At our school, the use of Charanga International is now fully embedded. Lower School pupils (5-11) use it throughout Class Music and Wider Opportunities and the Upper School (Year 7-13) use many of the resources.

In November 2013, ISI the Inspection Board came to St. Catherine's and gave Music Outstanding and recognised the use of ICT as a special feature: Charanga International really supported us.

Emma Goldsmith, Head of Performing Arts Lower School,
St. Catherine's British School, Athens
Students love to learn pieces because it's fun and 'cool!'. The backing tracks provide a fuller sound for students to play along.

There are a great number of varied activities for teachers to use in the lesson.

Helen Cheng, Flute Teacher at The British School of Guangzhou, China
Charanga International…it's the best I have seen in my 21 years as a music teacher in the Danish school.

Mette Meyer, School Teacher,
Denmark
I must say how wonderful the whole Charanga International programme is, as it saves us the extremely long and difficult process of buying in resources.

Allison Lehtinen, Music Teacher,
Maseru Preparatory School, Lesotho
I love Charanga. The site has so much material and the user friendly manner in which it is presented is great. I love that you can slow down and speed up pieces as you learn … the graphics and presentation are really fun and kid-friendly.

Patricia Short, Music Teacher, NSW Australia
I feel that new program for new PIMS curriculum is very good indeed. Students like it and I like it too.

All students will have a strong sense of pitches/phrases/expression before they play instruments. Also it helps to developed a range of music vocabulary, so they can help themselves to express their feeling about the music they are learning.

Tuan Le Quang, Music Teacher, China
What UK Teachers say:
Day 2 of Charanga – whole school lovin it! Song practice rocked! My own repertoire blown out the window with Don't Stop … Mamma Mia … Livin' on a Prayer … Fantastic resources around each song – recorders y3 loved Mamma Mia - y4 recorders Adele …
Rhythm grid excellent.

Music has just raised its game!

Jayne Brian, Instrumental Teacher
Musical School has given my staff the confidence and the resources to deliver exciting music lessons. The sessions are quick and easy to organise and can successfully be taught by non-music specialists. The children clearly enjoy the dynamic, fun and stimulating sessions and our teachers are learning valuable new skills.

Julie Brown, Headteacher
I think Charanga is absolutely fantastic. I use the rhythm grids as a starter activity in all my classes and the pupils' understanding of rhythm, the accuracy with which they perform has really improved. I use the recorder course with my clubs and they love all the songs. This half term I'm also teaching the hip hop topic with my y6s and it's going really well. I look forward to some more exciting resources.

Yvette Cooper, Music Teacher
I just really wanted to contact you to let you know how amazed I am with the quality of the resources I recently received from you. Everytime I access the website I find new resources which I know the children I work with will love and which are highly engaging teaching tools.

The lesson plans and resources which come with the platinum pack certainly do not disappoint in any way! I simply cannot believe how much work has gone into the creation of this amazing resource, which in my opinion all music teachers should be accessing! I know that over my years in teaching I have invested in many expensive resources – none of which are in the same league as the inspira resources.

I am an Advanced Skills Teacher for Music and will whole heartedly be recommending inspira to all the schools and organisations I work with, and the teachers I support, as an outstanding resource.

Many congratulations to you and your team. Should you ever need a formal reccommendation, I would be very happy to oblige.

James Gregory, Music Teacher
I am a year 4 class teacher and even I have the confidence to deliver music using these resources … they are brilliant and the kids love them!

Year 4 Teacher
… so exciting to have access to materials that can engage pupils throughout the entire school!

Music Co-ordinator
Just to let you know the children loved the resources – particularly the rhythm and beat cartoons! We followed the grids and then I got the children creating their own rhythms using a paper based grid! They were extremely engaged and enjoyed performing to each other!

Now about to borrow some Michael Rosen clips for my poetry unit!

Thanks once again, such a priceless resource!

Rachel Elvin, Primary Teacher
New Charanga – it's fabulous!! The kids have really enjoyed the units and the staff are delighted.

Julie Dorr, Primary Music Curriculum Support Consultant
We have been using Charanga for almost 2 years now and have found it a great resource for introducing our Primary school children to a range of musical disciplines. Its lesson plans are comprehensive, easy to follow and most important of all … fun. In addition, this is all supported by a great technical support team.

Phil Morgan, Primary Teacher
I just wanted to let you know how much I'm enjoying Charanga Musical School. I decided to trial it across the whole school: KS1 is accessing Hands, Feet, Heart; Years 3&4 In the Groove and Years 5&6 Don't Stop Believing. All the children are enjoying the different activities. A definite thumbs up from Upper Beeding.

Corrine Wellby, Primary Teacher
The Charanga site is brilliant! It helps to make my music lessons so much more relevant to the kids and it keeps them engaged.

R Spence, Head of Music
It can be hard to find music resources that don't give you problems with copyright, but with Charanga, we can download it and use it on our school's VLE.

Emma Lamb, Head of Music
A fantastic resource that engages the student and fully supports the teacher. Learning is fun.

Alex Hodgson, Music Teacher
The resources and the way they are presented are technologically cutting edge. The presentation is brilliant.

Matthew Bright, Woodwind Teacher